Abandoned But Not Forgotten: Old Cabin Style
Get ready for some much-needed excitement! In this issue of our For the Trade Newsletter, John Sampietro, Stash's Director of Commercial and Residential Design, takes you on an adventure, recounting interesting sites that he's come across and sharing a project that he would like to take on (with a little help from Stash), as well as a bit of history.
On the weekend, I love to head out with my dog, Maggie, a 13-year-old Labradoodle. We explore all sorts of places—abandoned industrial sites, buildings, warehouses, barns, and back woods all over the Great State of Tennessee.
I often discover antique furniture, art, decorative objects, and photographs in these abandoned places and meet a ton of interesting people along the way. In my field of design, it's a great way to see firsthand the various forms of architecture and décor that has preceded us.
I most recently stumbled upon an old cabin along a river stream in East Tennessee that was likely built in the mid 1800's. Mother Nature had taken its toll on the cabin, but it still maintained a sense of strength and beauty in its dilapidated state. After further inspecting the interior, I noticed the walls were covered in newspaper clippings from WWII and wrapping paper. I conducted some basic research and found that, although very decorative, the primary purpose of these wall coverings was to provide insulation from the cold and to educate the young children.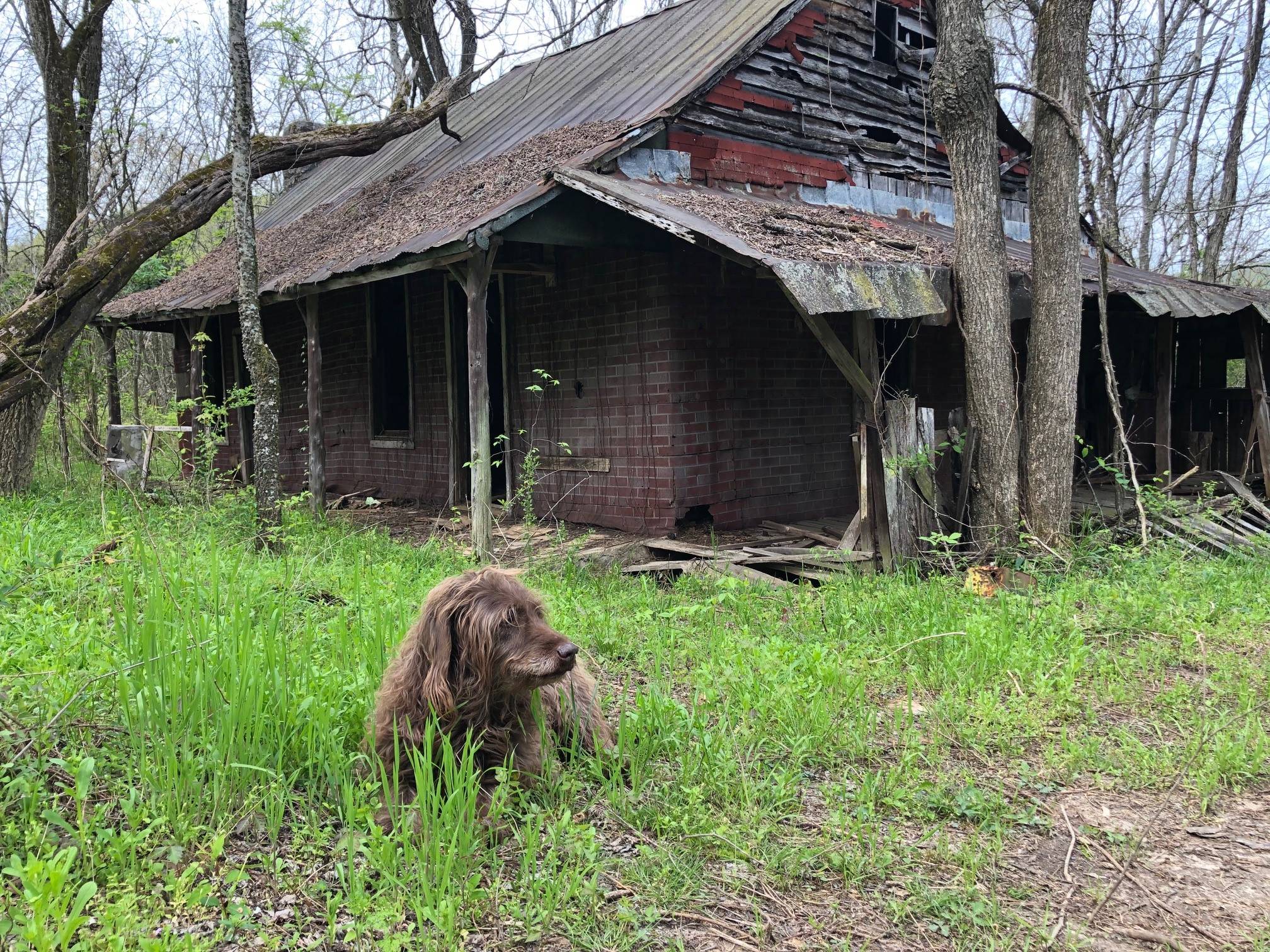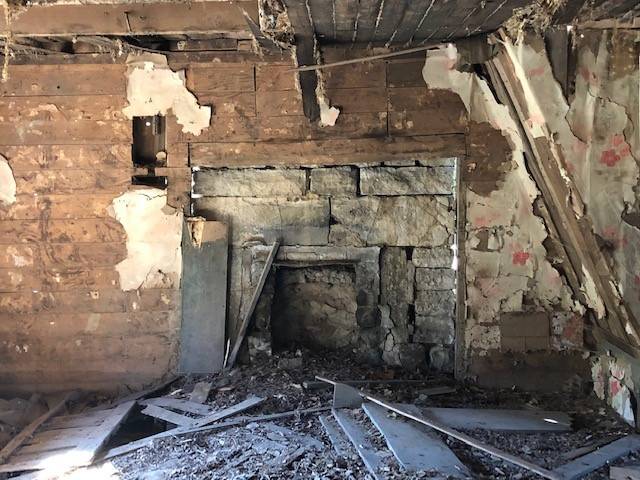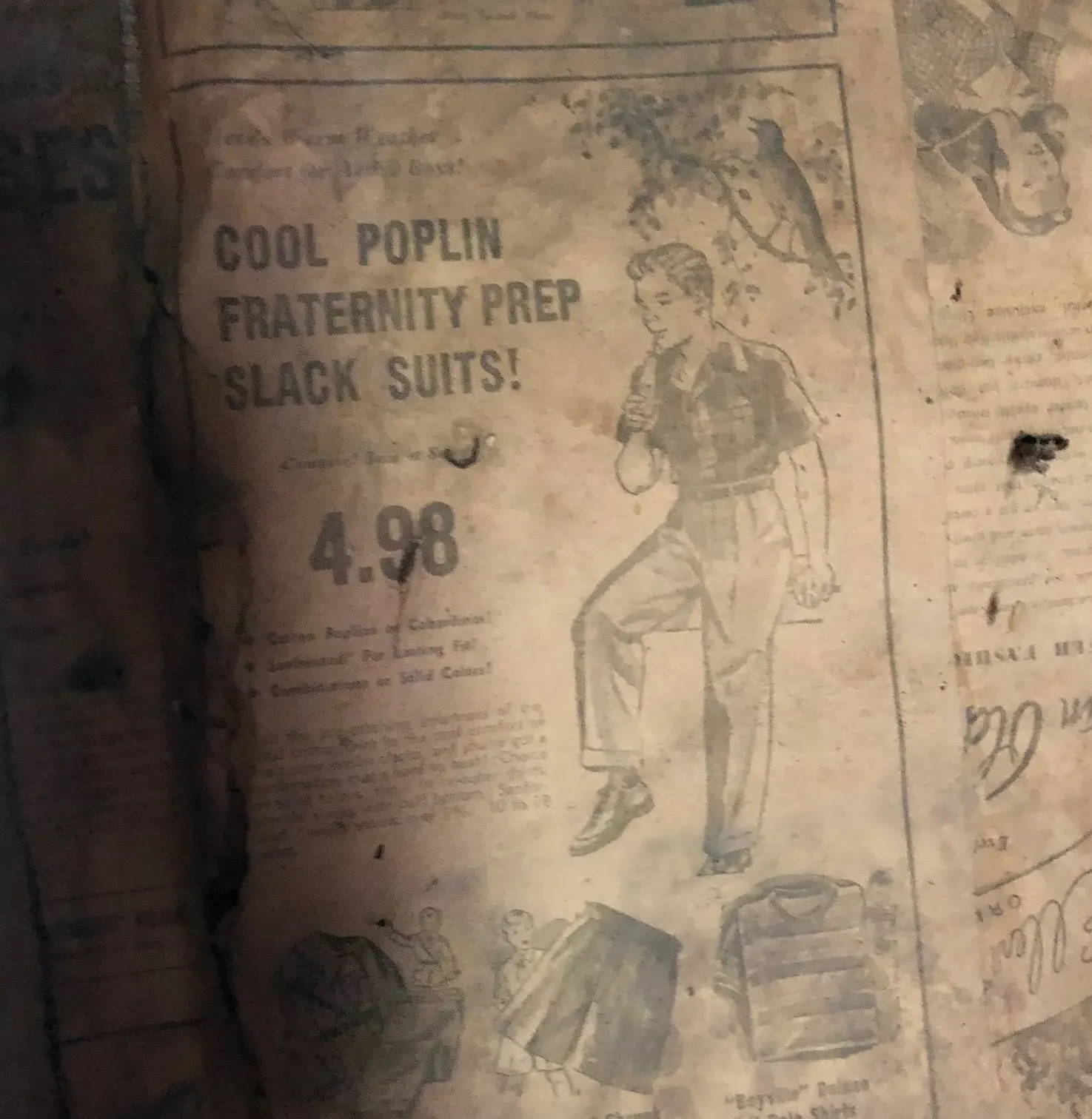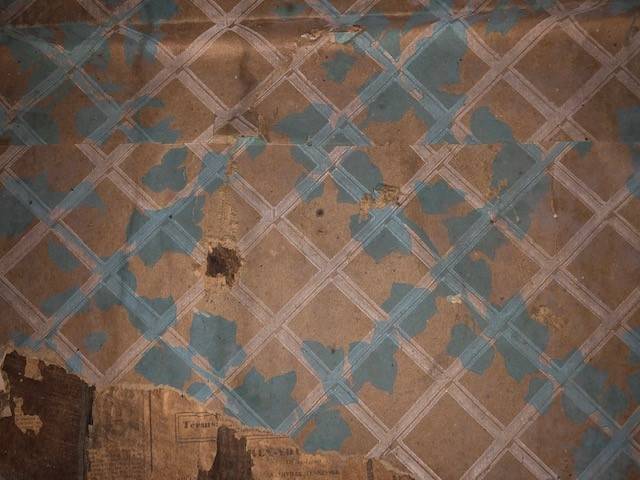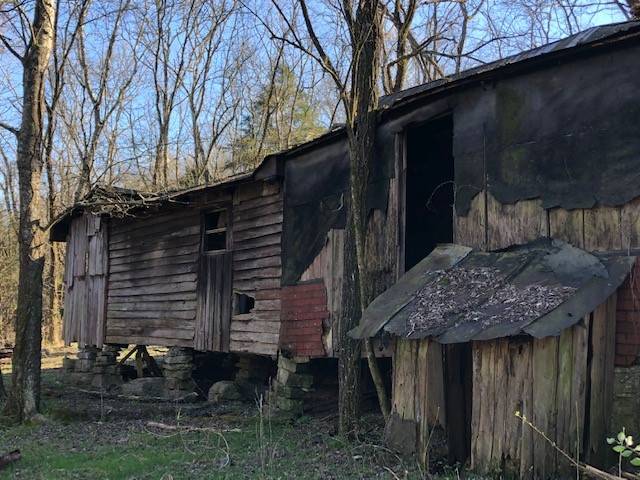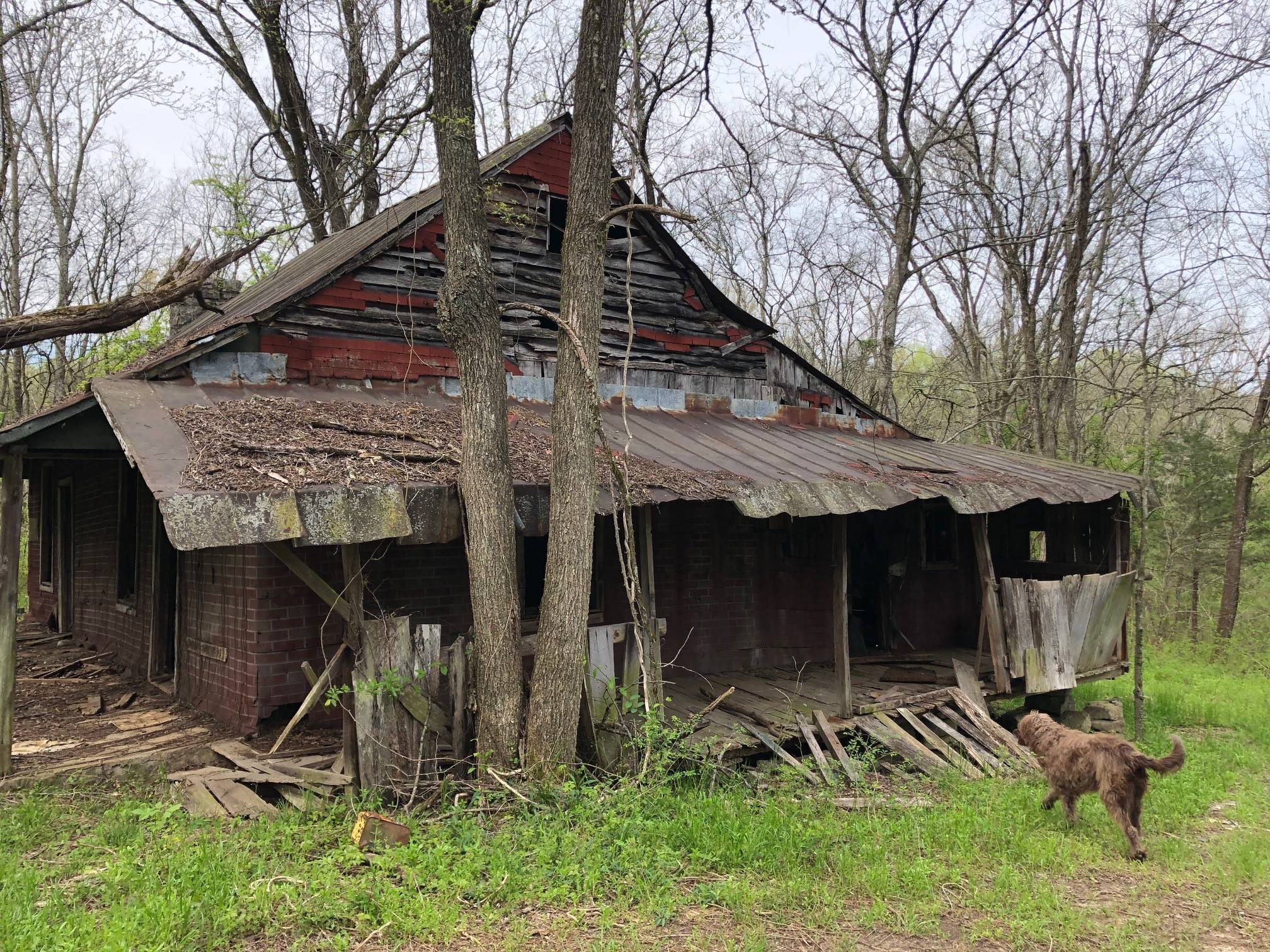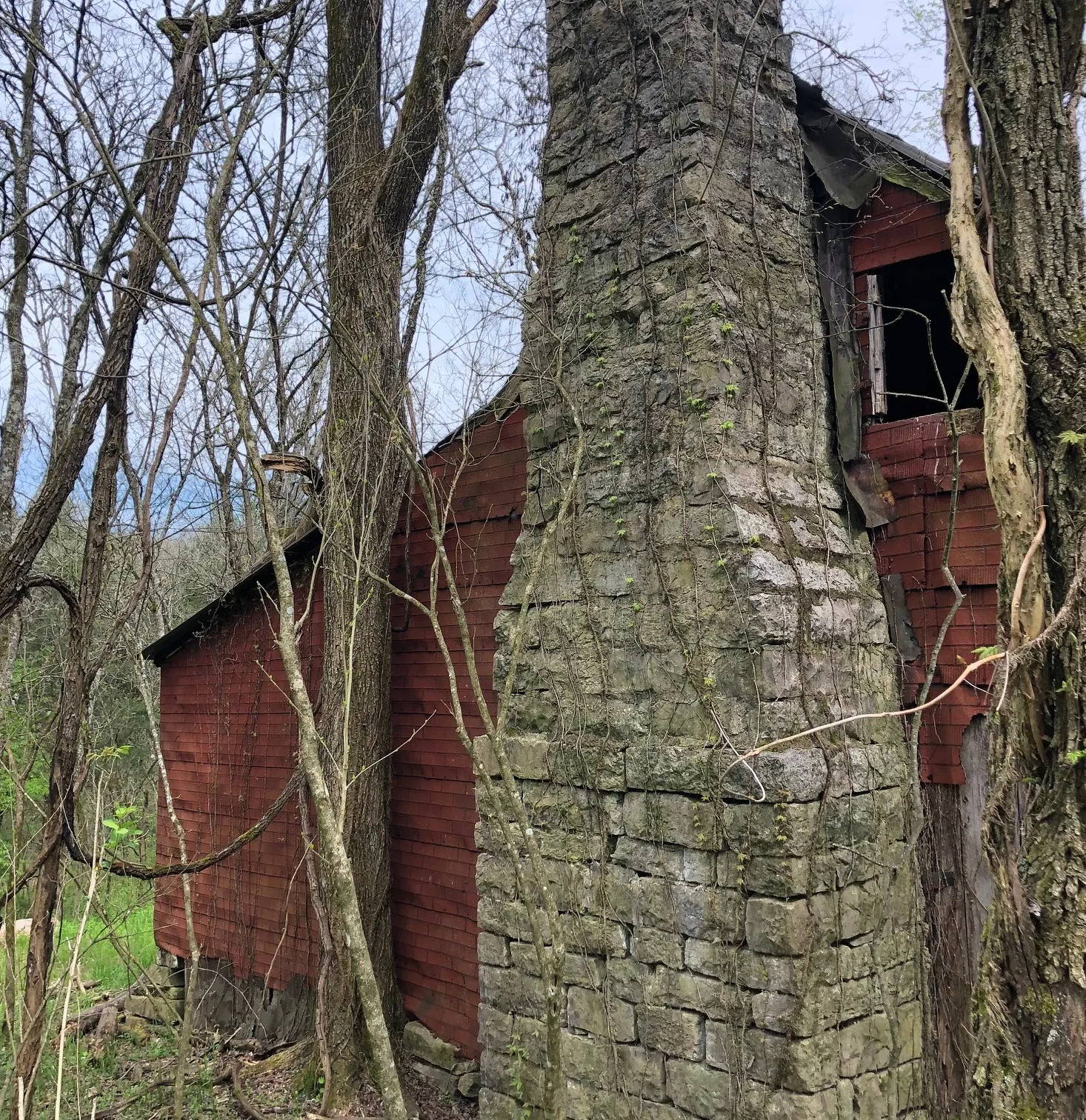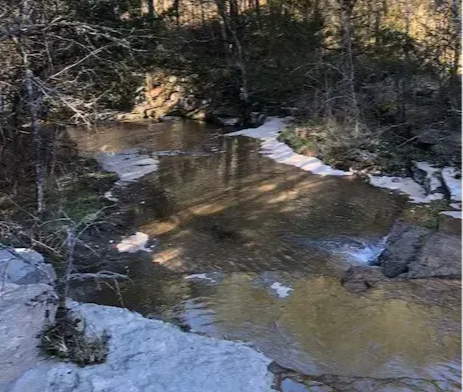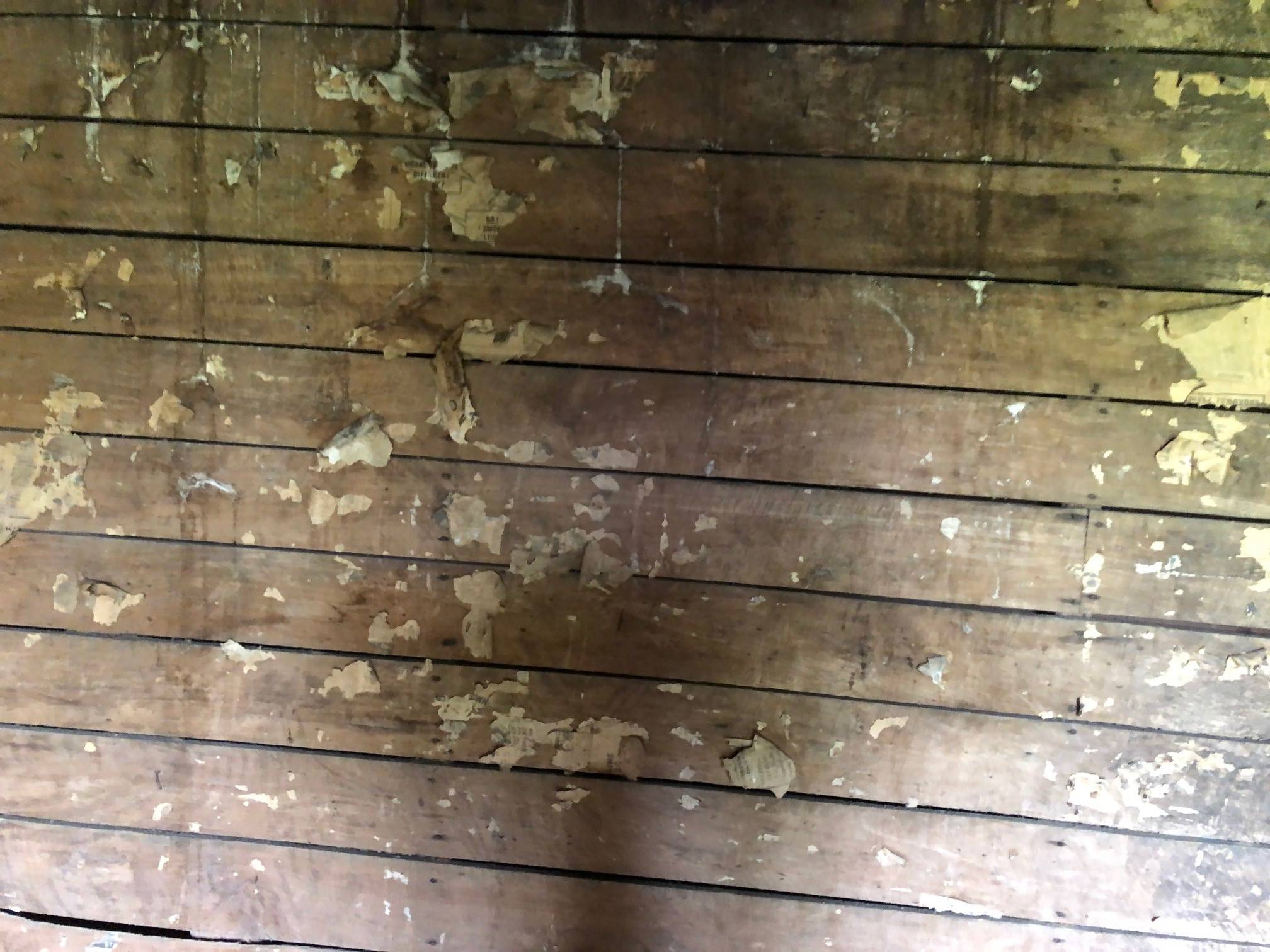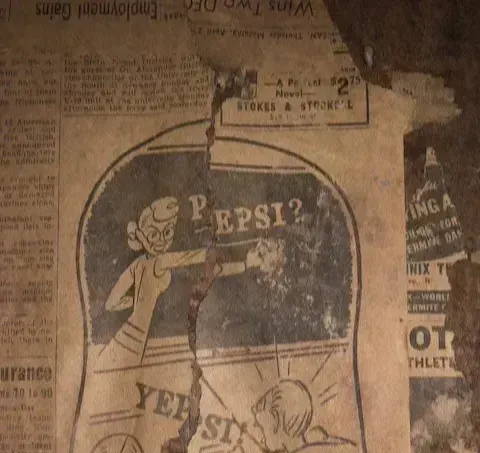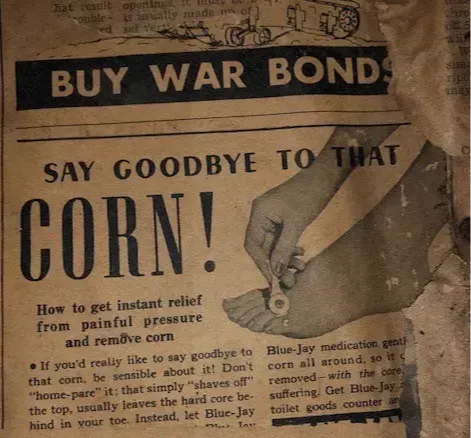 An article from Appalachian Magazine clearly depicts the structure and nature of old mountain homes.
"Early American cabins in the hills of Appalachia and beyond were simple, often built of materials within a mile or two of the homestead and containing little more than a couple of rooms.
Individuals who grew up in these cabins would often reminisce that, on many winters morning, they would awaken to thin layers of snow covering their blankets and pillows due to the cracks in the logged walls.
Always resourceful, the men and women of the mountains eventually found a relatively cheap form of insulation in the form of used and dated newspapers. Though early newspapers were not as affordable to the average family as they are now, they have always been time sensitive and once they were deemed "old" they were no longer of much value—enabling destitute mountaineers the opportunity to recycle them for an even greater purpose: Keeping their homes and families [relatively] warm.
Serving as both a wallpaper and insulation, newspapers, cardboard boxes, discarded printed maps, and any other large paper a pioneering family could get their hands on became a part of the home—and an unexpected benefit was that many of the mountain children perfected their reading ability simply by staring at the walls of their cabins; often learning of places far beyond their own mountain ridges."
Aside from sharing a hobby of mine, some cool pictures of this old, still-standing cabin, and a bit of history, I'd like to show you my vision for giving this cabin a makeover with a very diverse line of furniture—Austin by Stash Home. Our Austin line includes exclusive, distinct, unique furniture, and every piece tells a different story.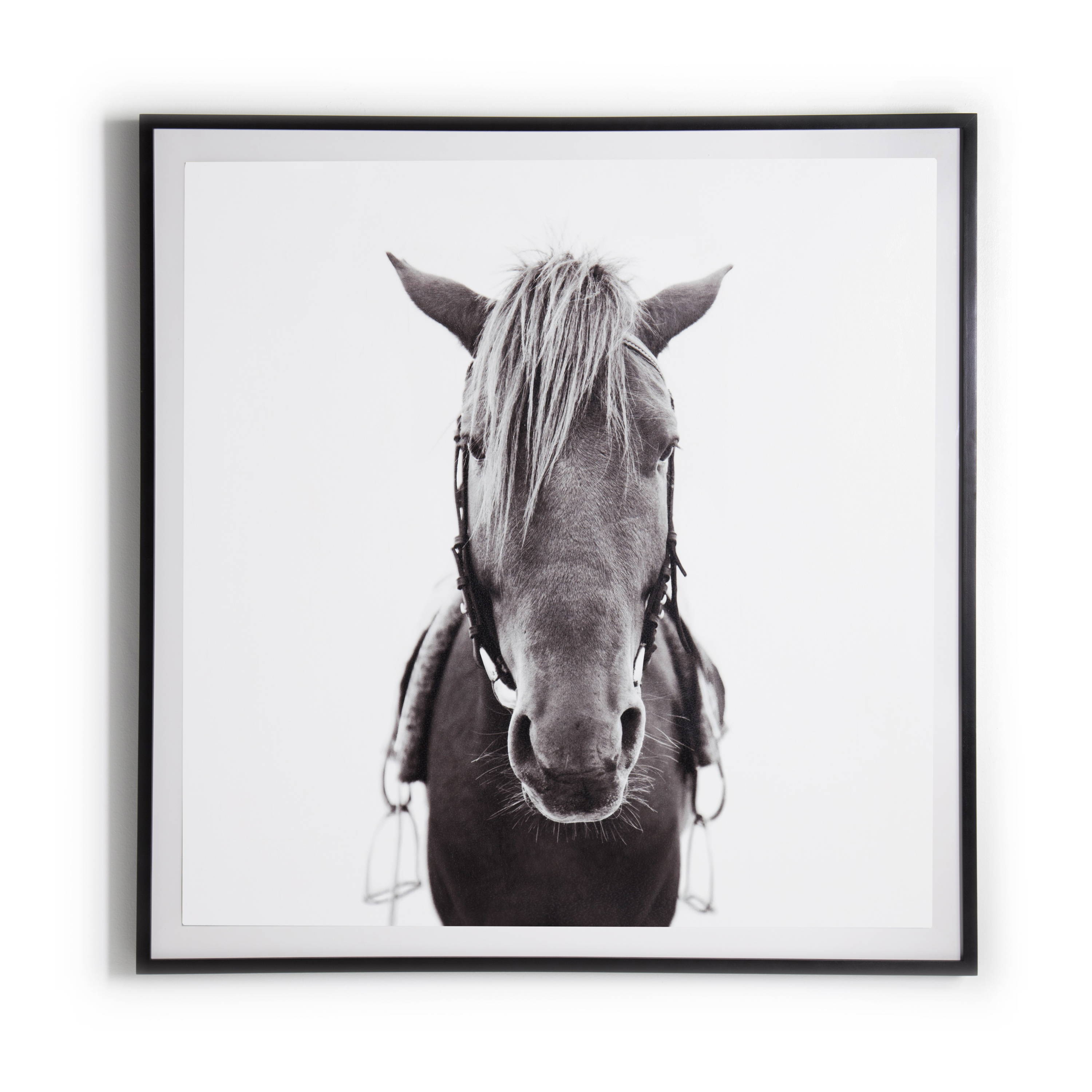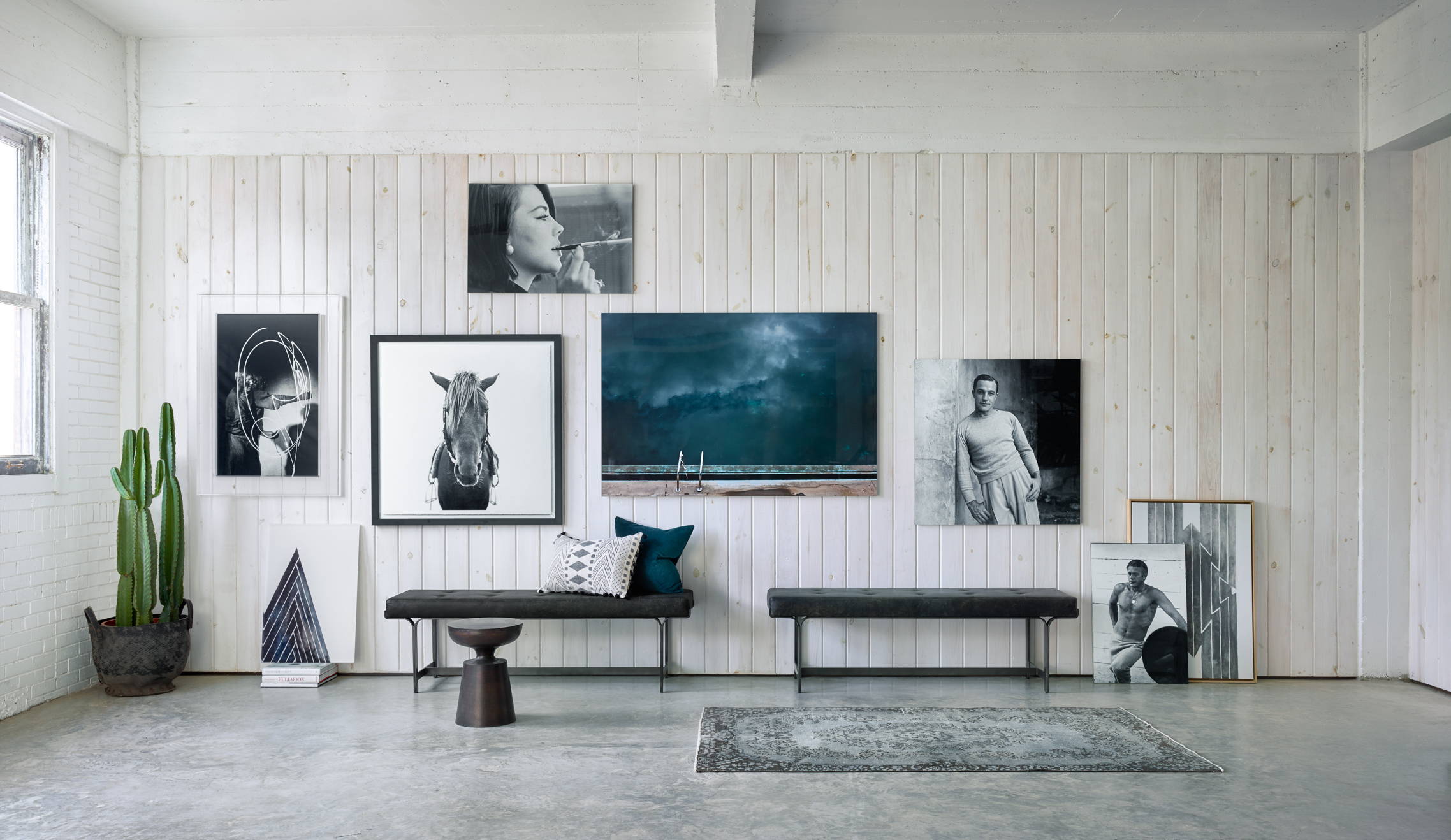 Horse Photo, Black, Dimensions: 48"w x 48"h
Simple and striking. A black-and-white capture of a beautiful horse, head on. Printed on top-quality photo paper and framed within black-finished American maple.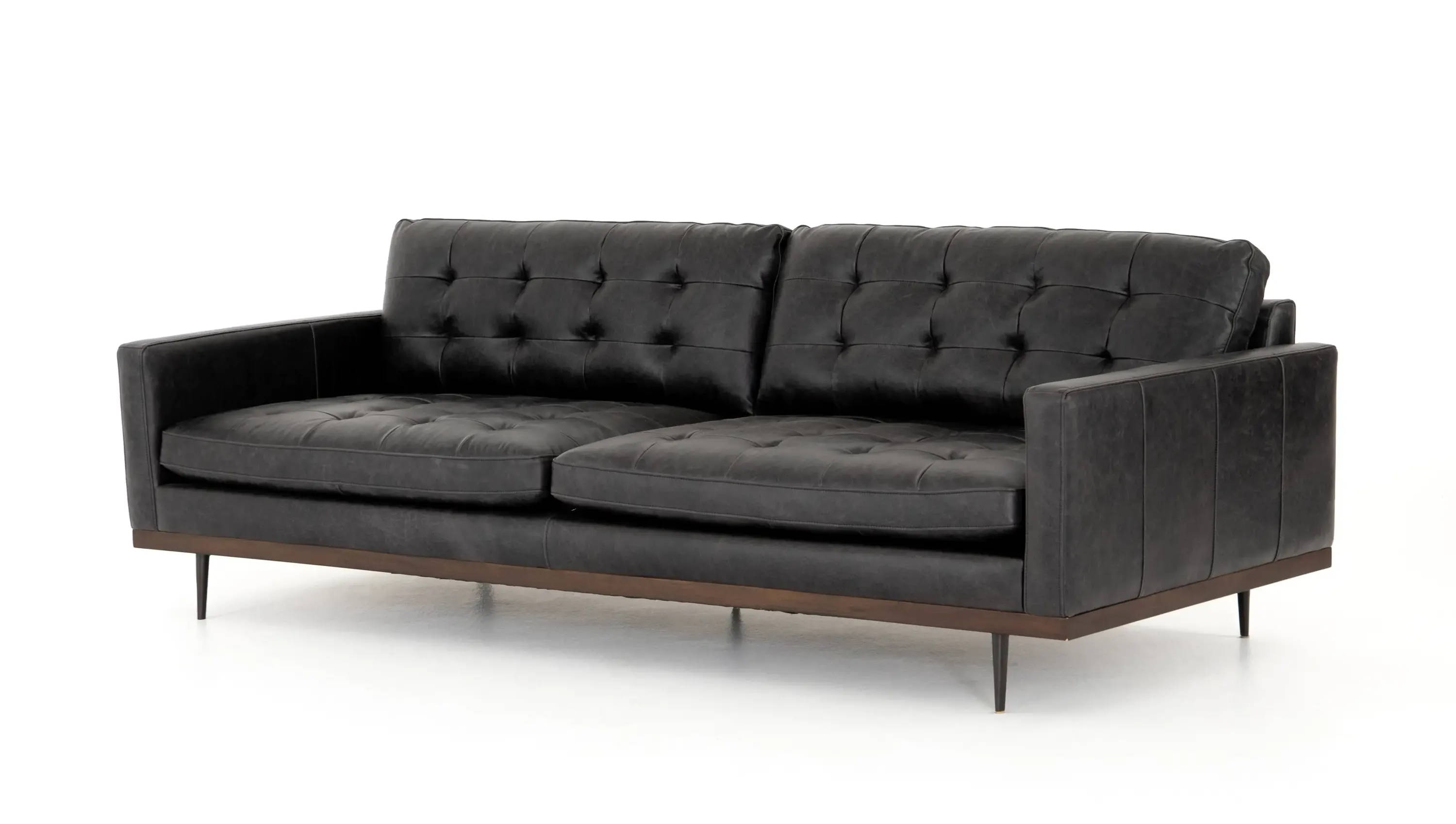 Lexi Sofa-Sonoma Black, Dimensions: 89"w x 38.00"d x 30.00"h
Low-leaning style with mid-century modern vibes. This chic sofa is upholstered in black top-grain leather that's finished off with button tufting for texture.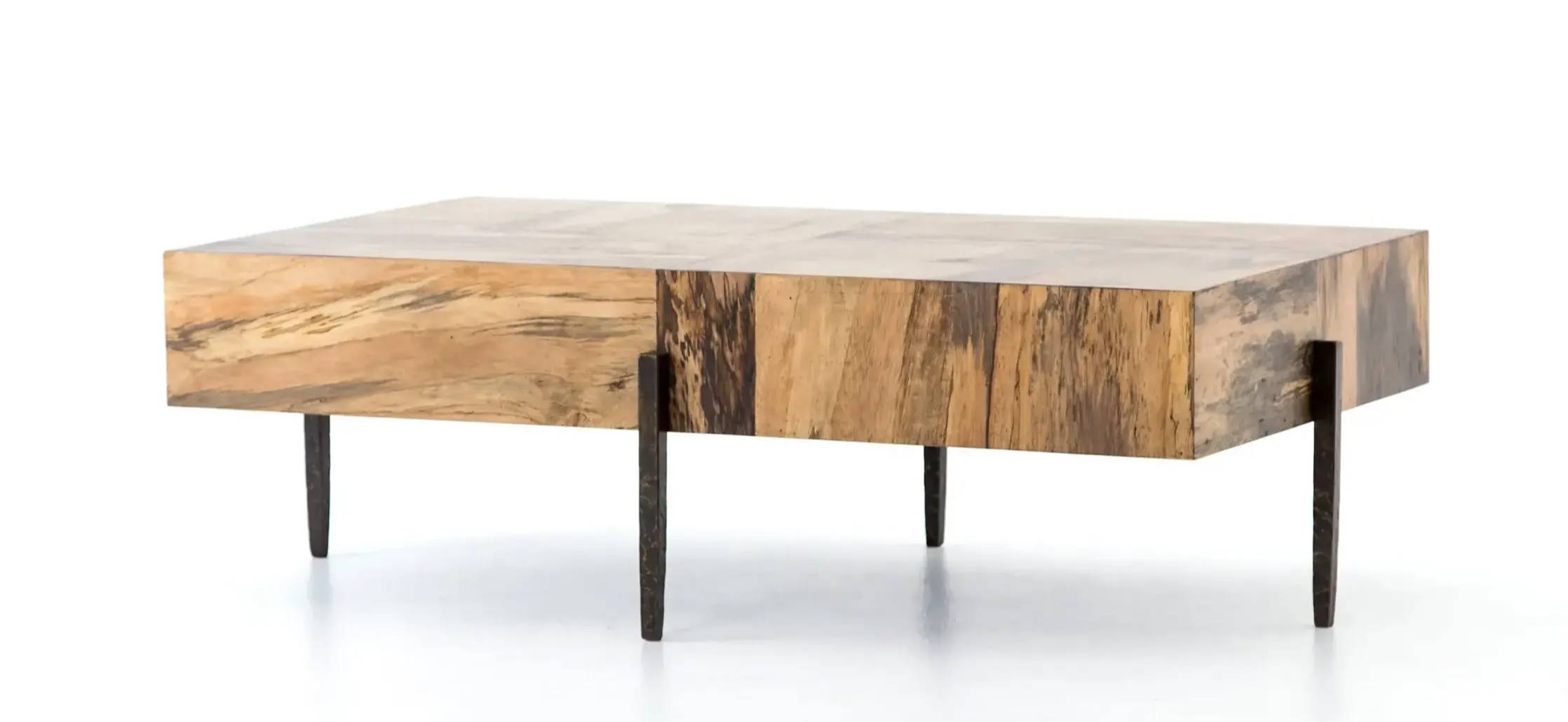 Indra Coffee Table-Spalted Primavera, Dimensions: 51.50"w x 30.25"d x 16.00"h
Streamlined shaping adopts rich character via natural materials. A thick slab of spalted primavera rests within a slim, four leg base of dark hammered iron.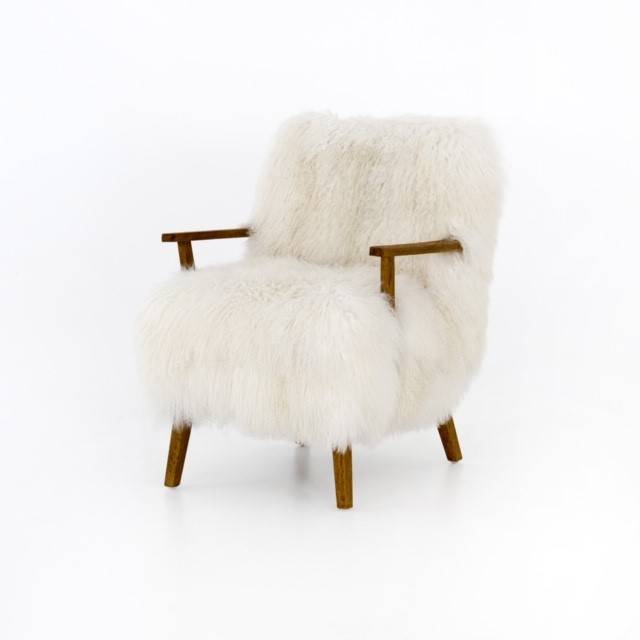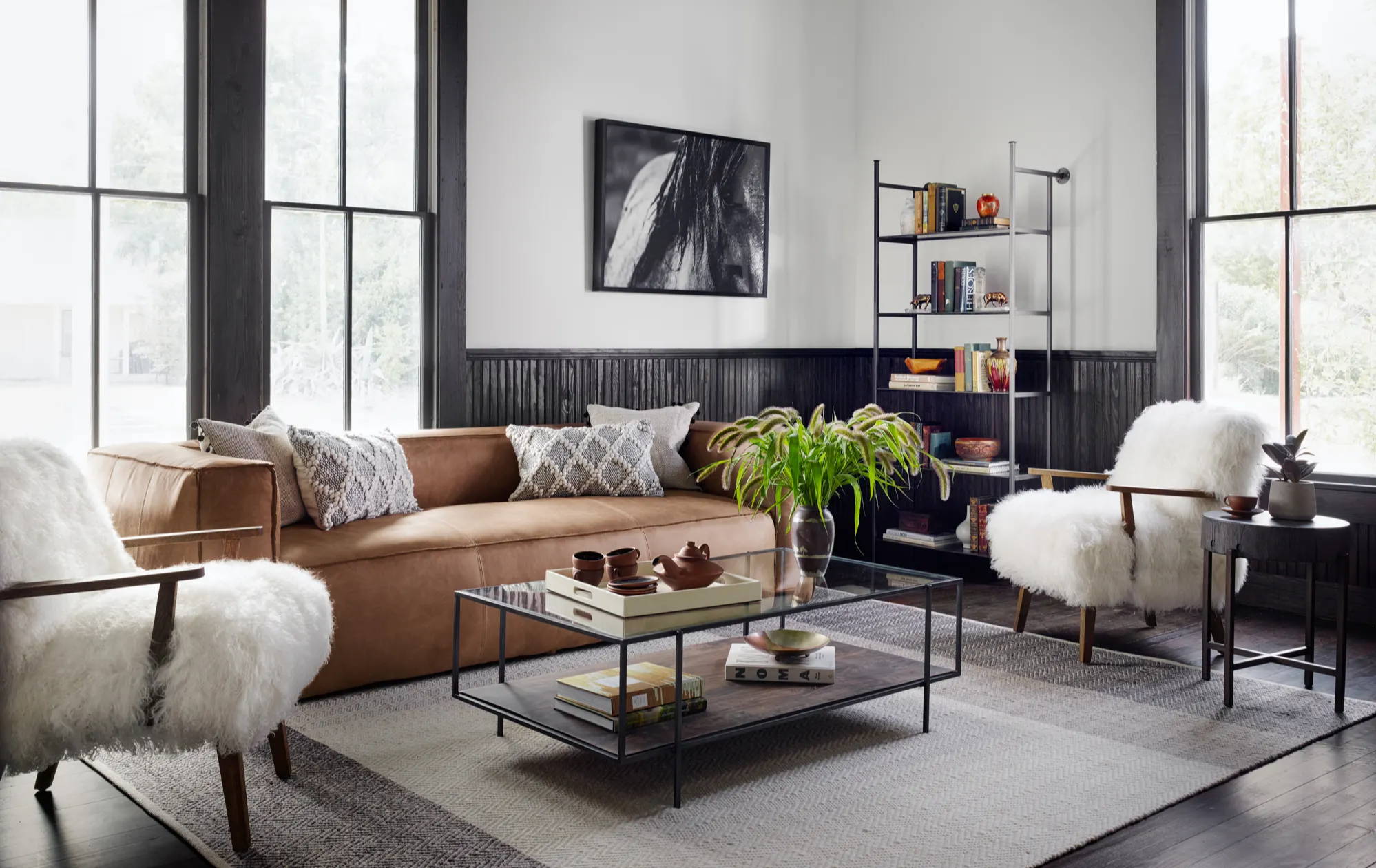 Ashland Armchair-Mongolia Cream Fur, Dimensions: 25.00"w x 29.25"d x 32.00"h
This armchair is a modern statement-maker. Sculpted arms of drifted oak emerge from shaggy, cream-colored seating of Mongolian fur.
Jack Leather Rocker-Chestnut Brown, Dimensions: 24.00"w x 28.75"d x 30.00"h
Slim and sophisticated, this rocker has a black-finished iron frame and sling-style seating of chestnut top-grain leather. Wrapped arms of bleached ash add a pop of textural contrast to this refreshed piece.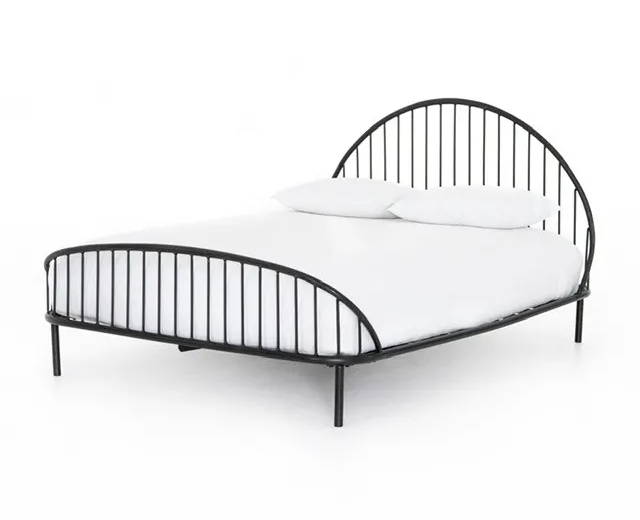 Waverly Iron Queen Bed-Vintage Black, Dimensions: 63.50"w x 83.50"d x 44.00"h
Soft and feminine, this hand-wrought iron bed has an intriguing arc shape, with open rails for a light look.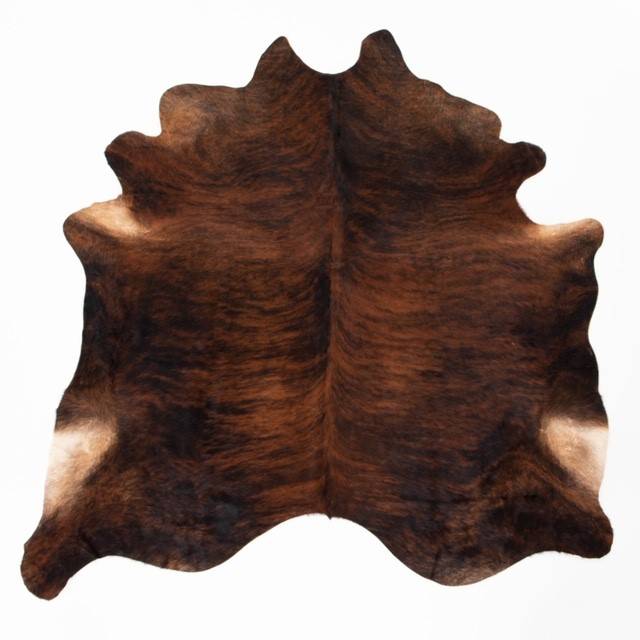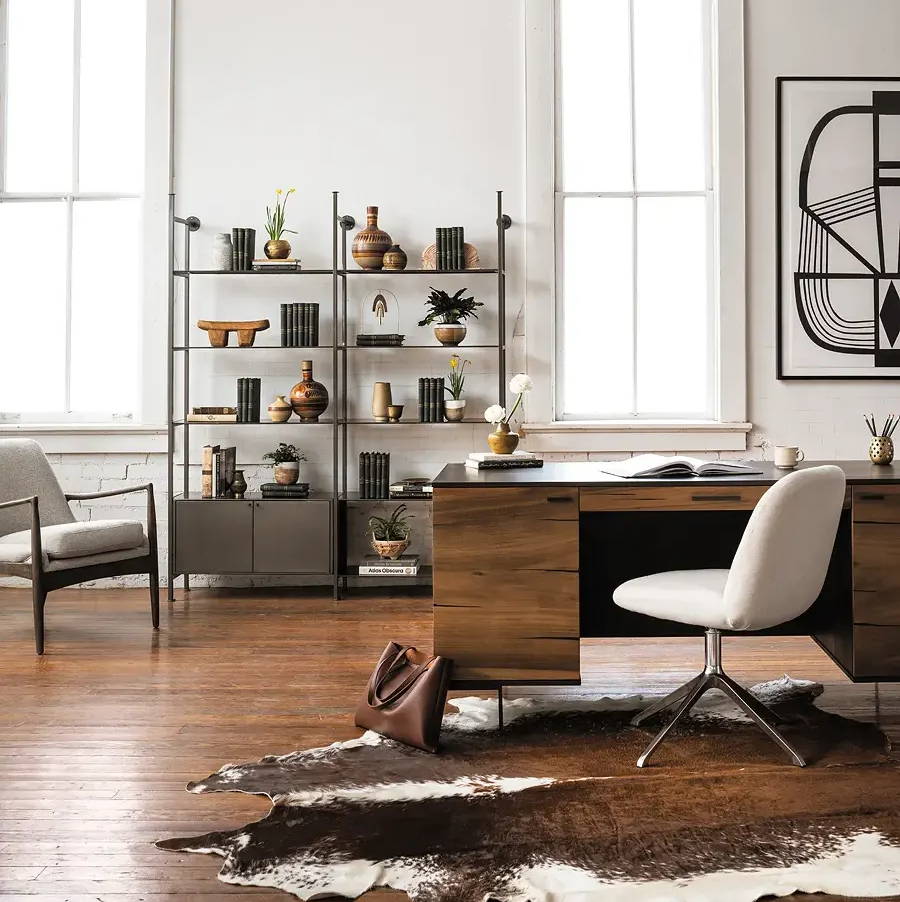 Brindle Cowhide Rug-Brindle Hide, Dimensions: 72.00"w x 0.50"d x 96.00"h
Authentic cowhide brings warmth to any space. A variance in color, shape and pattern demonstrate the one-of-a-kind nature of these beautifully exotic area rugs.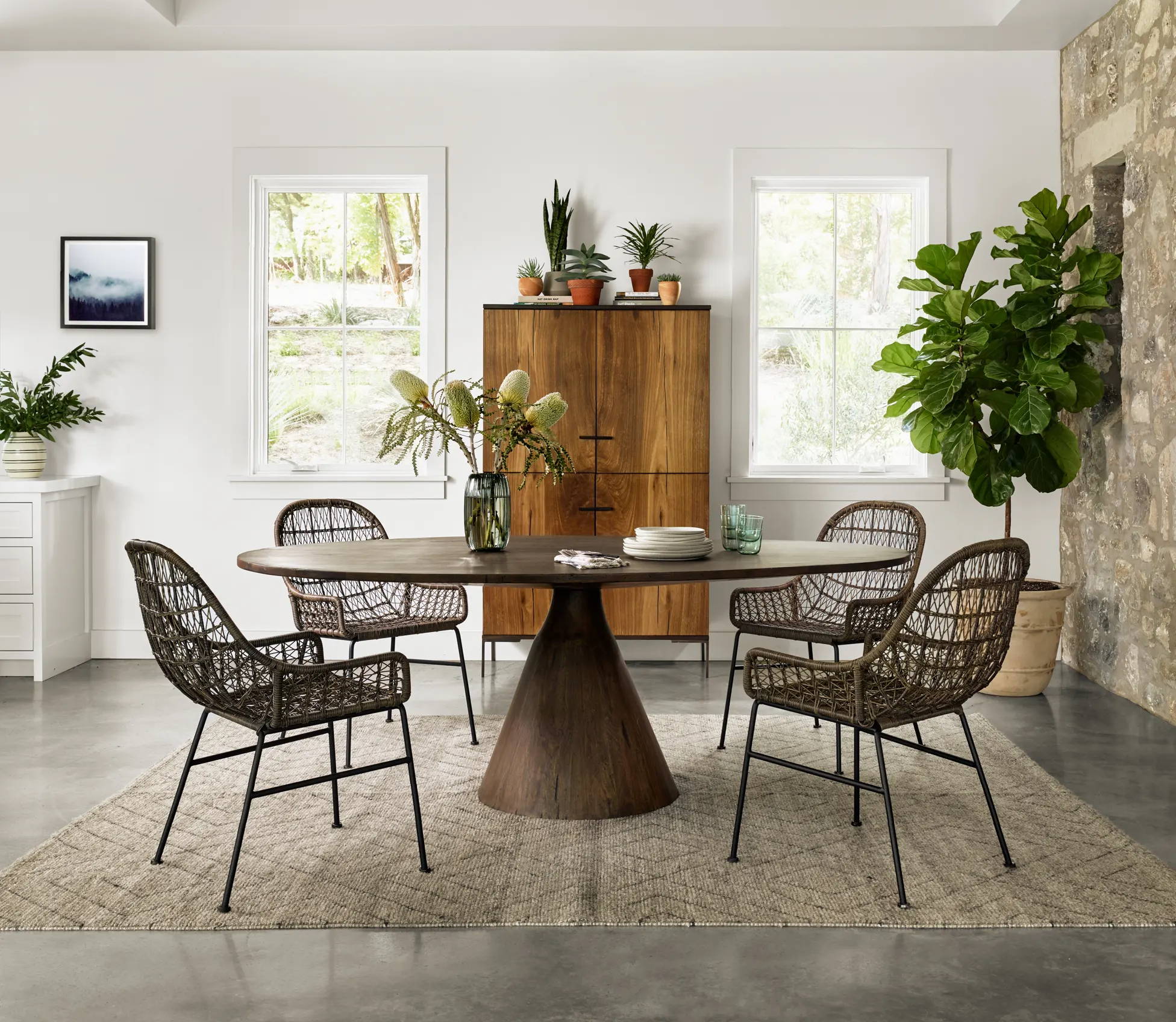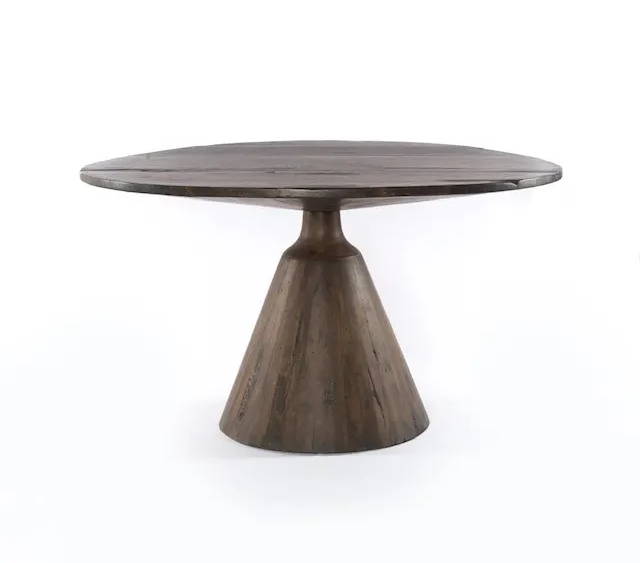 Bronx Oval Dining Table, Dimensions: 84.00"w x 48.00"d x 30.00"h
This oval-shaped pedestal table takes aesthetic cues from nature. Character-rich knots and grains innate to Indian-sourced woods are on display on a dramatically tapered base, then smoothed across a brown table top for a fresh feel.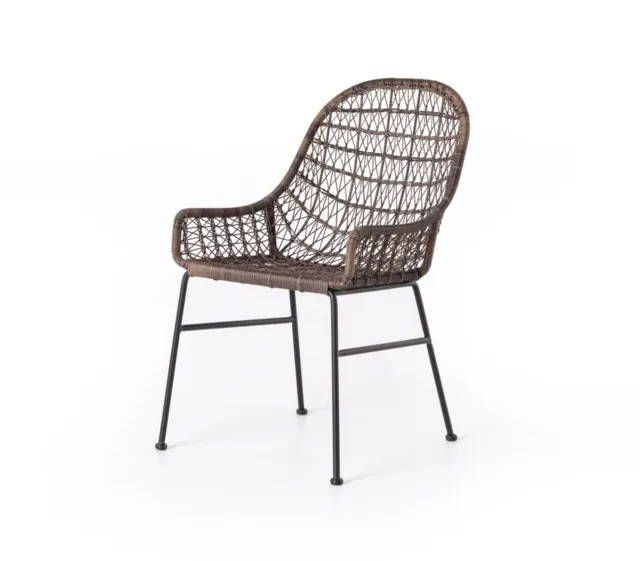 Bandera Outdoor Dining Chair Low Arm-Gre, Dimensions: 22.00"w x 26.00"d x 35.25"h
Clean, contemporary shaping and an updated weave transform all-weather wicker into something modern. This low-armed dining chair is supported by a contrasting black iron base.
---
At Stash, whether it's an old cabin, lake house, home office, beach house, ski villa, or wherever you call home, we not only have the product to cover the entire design spectrum, we have the people, the man power, the trucks, the white gloves, and the vendor relationships to get you amazing pricing and installation, pretty much wherever you are.
I hope you enjoyed this glimpse inside an early mountain home and my personal vision of the Stash furniture that I would put inside this old jewel of a cabin. As always, see the Trade drop down on our website navigation menu for our special design program offer, which will further reinforce how Stash Home can be a key part of your design process. Please reach out to me anytime via phone or email, and we can discuss your unique needs.
Best wishes and much love,
John Sampietro, Director of Commercial & Residential Design
Phone: 901-826-8994
Email: jsampietro@dsghome.com